Letters written To W.C. Atkinson
by Allied Prisoners of War in Ube, Japan, 1945
-o0|0o-

Gnr. G.C. Woodall 1539954
89/35th Regt. R.A.
Base Post Office
Melbourne, Australia ................................... October 1st, 1945

Dear Sir:
Just a few lines thanking you and your crew for the excellent way you dropped our PW supplies in Ube, Japan. It was certainly a godsend and saved a few more lives. When we got news that supplies were going to be dropped we had spotters on the roof looking for B-29s, or, as the Nips call 'em: B-Neegoo Koo's, and when they did come it caused quite a lot of excitement. The boys could hardly believe their eyes and believe me they were very thankful. A lot different to dropping bombs. We had quite a bit of fun every time you roared over the camp. Spotters shouting "Traps open. He's going to drop it this time." and down it would come. I would like to write a whole story about the time after you dropped [those] supplies but not writing for nearly four years it seems funny with a pen in your hand. It is quite a treat to be back to civilization again.
Thanks again and many thanks. My two pals also send their appreciation.

From a Cockney lad and two pals, Charlie, Wag, Bob.


-o0|0o-

23 Springhill Terr.
Rugely, Staffs,
England .............................................. Ca. October 23, 1945

Sir:
Just a line thanking you so much for the supply of food and clothing. I must say I was a grand sight seeing it all dropping down. One day starving and the next plenty for everyone. It saved a "hell" of a lot of lads lives, who was just on their last legs. We had 286 chaps in our camp [at] Ube. One died the day after you came. We left Japan on USS Hospital Consolidation, went to Okinawa, then to Manilla from here to San Francisco, then England. Once again thanks a lot hoping you get home for Christmas, all the best.

Roy Ravenhill


-o0|0o-

Hughes, H.
"Near Clock"
High Street, Sheringham,
Norfolk, England ............................................. August, 1945

Dear Mr. Atkinson:
By the time you receive this letter knowledge of our long ordeal in Japan will be common to all therefore, it seems nothing I can say will adequately express the gratitude we feel for your splendid efforts on August 28th, 1945. Starved of those commodities for three and a half years which you so conveniently put down for us, we were frantic with joy and for the most of us it was the best afternoon entertainment ever experienced.
Personaly, my greatest joy was to see your magnificent B-29 at close quarters. I've served in heavy anti-aircraft artillery for many years and have a natural interest in A/C [aircraft] and whereas hitherto I've only seen you at 30,000 feet or so and admired from afar, a treat such as this I'll never forget.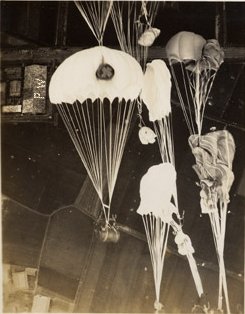 I must relate some of the incredible coincidences which occurred with your supply aiming. Our camp shoe repairer, who for years past has been trying to patch up footwear with bamboo accessories, received a sack of boots through the roof right into his bed. Another camp received tinned meat supplies through the cookhouse roof right into the boiler! And this will amuse you I'm sure. A 'chuteless canister hurtled into a large row boat just off the shore and instantaneously sank it. Twelve passengers who were watching the show suddenly found themselves up to their necks in water--all in true Mack Sennett style. The star report comes from a nearby Nipponese latrine. An aged Japanese woman was astride one of their primative privvies when another 'chutless drum thudded into the back of it and blew the old woman out into the road covered from head to foot in peaches and mire.
We are all English here except three American medical men from whom you will no doubt hear and we are all mighty pleased you dropped your note giving us an opportunity to thankya for the good work.
We were taken in Java in 1942 and have never lost faith in Uncle Sam although at times we thought you were getting a little personal with the rough stuff--we're the luckiest people in the world. Anyhow, the supplies will help us to be patient while we wait for repatriation.
With sincere gratitude,
Regimental Sergeant Major Hughes
(6th Heavy Anti Aircraft Regiment)
Royal Artillery
Witten in Ube POW Camp, 30th August 1945

-o0|0o-
---